Nobuchanman Co., Ltd. will open a standing bar "Sake Museum Kyoto Station Store" in a corner of "FamilyMart Kyoto Kyoto Station Store" on October 31st.
This is the first attempt at a collaboration store between "Sake Museum" and "FamilyMart". Introducing the bar "Sake Museum" in a corner of FamilyMart, aiming for synergistic effects in a new form called "CONVENIENCE STORE BAR".
The "Sake Museum" is a standing bar that was created with the desire to "enjoy rare old bottles more easily." It is a stand-up drink with no charge, and old bottles are offered at a reasonable price starting from 500 yen per cup, and are supported by a wide range of generations, from younger generations to middle-aged and older people who miss sold-out bottles.
This time, we opened a store in a good location in front of Kyoto Station, which is the gateway to Kyoto, and you can enjoy it without hesitation in various scenes, such as one cup when you visit Kyoto and one cup on your way home. The customer unit price is assumed to be 1500 yen.
In addition, you can see Kyoto Tower from the terrace seats, which is ideal for sightseeing in Kyoto. Offering a luxurious time to enjoy highball and whiskey while looking at Kyoto Tower.
We will also sell the original blended highball "Famichiki Highball" (500 yen), which was originally developed to match FamilyMart's popular chicken "Famichiki". We also have a large selection of "Mom's Cafeteria Brand" snacks that go well with highball and draft beer.
■ Sake Museum Kyoto Station Store
Address: 849 Higashishiokoji Town, Shimogyo-ku, Kyoto-shi, Kyoto
Business hours: 15:00 to 24:00
Phone number: 075-708-7994
Regular holiday: Open all year round
Store area: Approximately 16.53 square meters
Number of seats: All standing (capacity of 22 people) * Some table seats are available. 10 counter seats, 12 terrace seats
Operating company: Nobuchanman Co., Ltd. and FamilyMart Co., Ltd.
<Image of CONVENIENCE STORE BAR>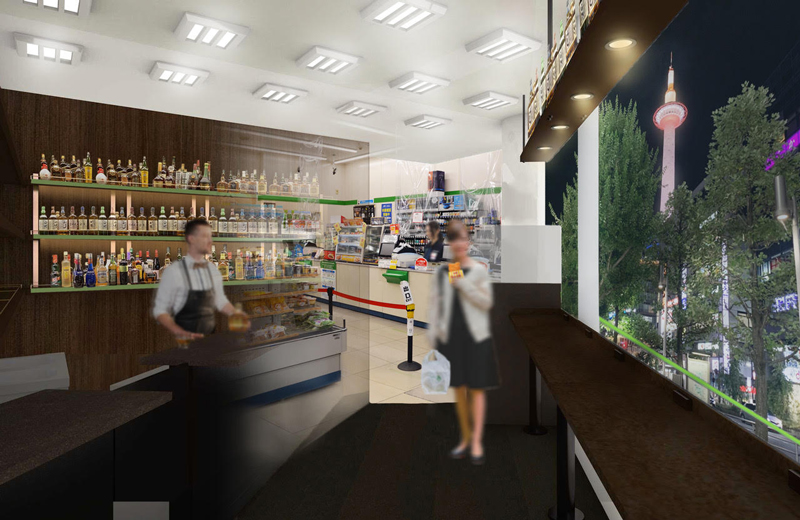 <Highball for "Famichiki>