Mitsui Fudosan and Mitsui Fudosan Commercial Management announced on November 9th at the large-scale commercial facility "Mitsui Shopping Park Lalaport Aichi Togo" in Aichi-gun, Aichi Prefecture, a digital book "Ria" that appeals to the highly sensitive fashion and lifestyle. It was appointed as a model of "TOGO times".
"TO GO times" is a digital book published as part of the "Find New Life." Fair, where "Mitsui Shopping Park LaLaport Aichi Togo" proposes a fulfilling new lifestyle, and provides highly sensitive and ethical fashion and lifestyle information. We plan to publish each issue.
A virtual human is a character created with super photorealistic 3DCG quality. "Ria" is a virtual model produced by Aww, which produces "imma" and "plustic boy" as Japan's first virtual human company, and already has more than 30,000 followers on Instagram.
This time, the virtual human "Ria", which was the first work in a commercial facility, will appear in the digital book "TOGO times" of "Mitsui Shopping Park Lalaport Aichi Togo", and will show off the cuts wearing the products of the store in the hall.
In addition, "Ria" will be developed in posters and displays in the hall, digital signage, and Instagram stories advertisements.
The theme this time is "New clothes and new me". Focusing on "sustainability", which is currently attracting attention in the fashion industry, we also propose how to wear sustainable fashion, which is of great interest to the virtual human "Ria".
In the future, "Ria" Lalaport Aichi Togo will continue to team up to introduce items that are attracting attention at Lalaport Aichi Togo.
In addition, the virtual human "Ria" talks about his impressions after shooting, fashions and trends newly introduced recently, future goals, etc. in an interview after shooting.
<Use virtual humans for digital books>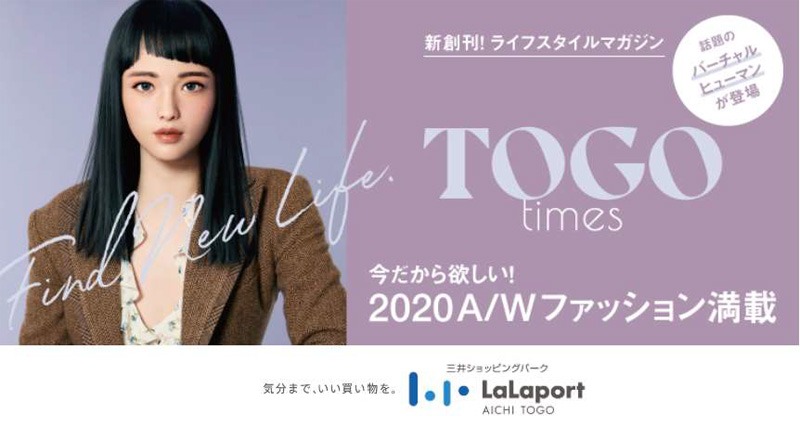 <TOGO times>
"https://mitsui-shopping-park.com/lalaport/togo/special/2011togo_times/"