Under the umbrella of Royal Holdings, Royal Contract Service, which manages restaurants centered on in-house school lunch facilities and medical facilities, opened the "Royal Host Kyushu University Hospital Store" as the first store in the hospital on November 8th at Kyushu University Hospital. Opened in the north wing.
As for Royal Host, Restaurant Royal Host, which is in charge of the restaurant business of the Royal Group, has 219 stores nationwide.
The store will be operated by Royal Contract Service, which has a proven track record in operating hospital patient food, in-hospital restaurants, and staff cafeterias.
In addition, as a royal host, we will take on the challenge of developing at new bases for the further aging of the population.
This time, the restaurant was opened on the premises of Kyushu University Hospital, which provides advanced medical care as a special function hospital, as a restaurant that can be used by inpatients, people who come to see a doctor, people who come to visit, and people in the area.
As for the menu, we have prepared a grand menu (about 60% of the usual) including classics such as cosmodria and Angus beef steak.
In addition, as a special menu, we have a lineup of seafood champon, burdock tempura udon, local oyakodon, etc., and a wide variety of products that meet a wide range of needs as an in-hospital restaurant.
For hamburgers and steaks, takeout is also available. For delivery, orders of 3000 yen or more need to be accepted by 17:00 the day before.
It is supposed to be used by various people such as those who are in the hospital and those who have visited the medical examination.
In order to make it a relaxing time, we adopted dark brown wood grain, bright ceilings, and bright chairs to create a design that expresses the gorgeousness of a restaurant with a warm and calm atmosphere.
To make it easier for people with wheelchairs and IV stands to walk, we have adopted vinyl floor sheets that have received environmental certification and health certification without worrying about steps.
In addition, we prepared a chair without an arm so that it is easy to sit and stand, with a straight lead wire and a simple seating arrangement. In addition, there are two elevating tables where people in wheelchairs can eat as they are.
In addition to its functionality as a restaurant in the hospital, it strives to provide customers with relaxation and abundant time with dishes that are particular about ingredients and cooking and heartfelt hospitality.
<Inside the Royal Host Kyushu University Hospital>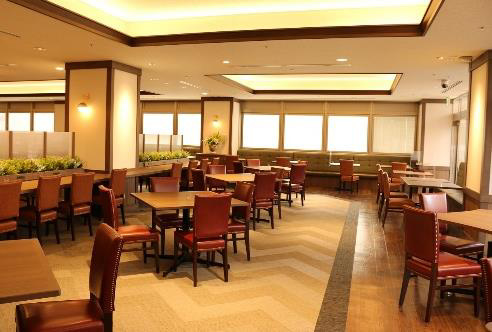 <Elevating table that allows you to eat in a wheelchair>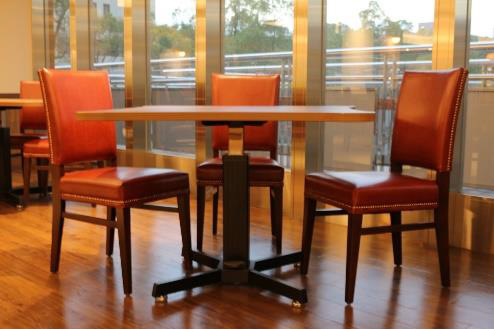 <Royal Host Kyushu University Hospital>
Location: 3-1-1 Maidashi, Fukuoka City, Fukuoka Prefecture
Kyushu University Hospital North Building 1st floor
Number of seats: 118 seats (2 seats x 17, 4 seats x 17, big table 16 seats)
Store area: 429m2
Business hours: Weekdays 8:30 to 20:00 (L.O. 19:30), Saturdays, Sundays, and holidays 9:30