On November 9, Dentsu Digital began offering an analytical solution "Commerce Dual Funnel Visualizer" that specializes in EC malls and supports maximization of results.
The analysis solution collects and analyzes various customer behavior data in EC malls, and comprehensively visualizes from customer recognition to interests, purchases, and loyalty with a dual funnel.
This will contribute to improving the business results of companies by grasping the current situation and extracting problem points for improvement according to each phase.
The first is Rakuten Ichiba and Yahoo! Shopping. In the future, we will support in-house EC site analysis and API development utilizing SaaS (Software as a Service) of other EC malls, Shopify, etc. Aim for various measures.
In recent years, the scale of the EC market has continued to expand rapidly, and the number of companies opening stores on platforms such as major EC malls is increasing.
On the other hand, many companies are currently facing the problem of not being able to carry out precise verification due to data analysis for each platform, lack of know-how in improvement, and complexity of EC operation work.
"Commerce Dual Funel Visualizer" utilizes the enormous amount of data that can be obtained from the management screen of the EC mall, and reviews the search ranking results including competition and product units, and verifies the effectiveness of e-mail newsletter measures for existing customers after purchase. Extracts preset necessary information such as data and automatically generates a report.
Data that is difficult to obtain, such as search results in EC malls that cannot be downloaded with CSV or Excel and distribution results of e-mail newsletters, can be analyzed and accumulated for past comparison.
Competitive comparisons and reviews of exhibited products can be confirmed even at companies, mass retailers, and wholesalers who do not have an online shop in the EC mall.
It can also be used as a sales improvement measure by conducting SEO measures and competitive surveys in EC malls.
By utilizing this analysis solution, advanced data analysis can be performed, PDCA for problem extraction, strategy, and execution can be swiftly turned, and time and human resources required for report creation and information collection can be expected to be reduced.
<Overview of "Commerce Dual Funel Visualizer">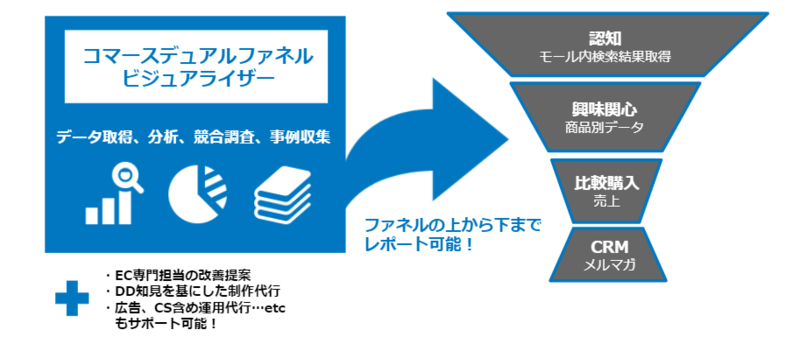 <Example of provided report>