From December 1st to December 31st, PayPay will give up to 40% of the purchase price of Kao products to users who purchased more than 1000 yen (tax included) .
This campaign is the second of a similar campaign in September 2020.
The campaign will be held as part of the concept of "always exciting pay-pay somewhere" (December 2020).
Target stores include Welcia, Tsuruha Drug, and Matsumoto Kiyoshi nationwide.
The maximum grant amount of 2000 yen for one payment, the total grant limit of 2000 yen during the event period, and the PayPay bonus will be granted in late February 2021.
<Kao Campaign advertising>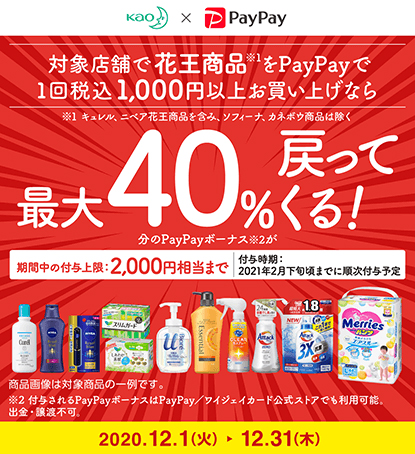 <Kao Campaign Page>
"https://paypay.ne.jp/event/kao-20201201/?_ga=2.153448824.1918986933.1604976590-176782255.1604976590"