On November 12, Mitsui Fudosan, Kyushu Electric Power, and Nishi-Nippon Railroad held a groundbreaking ceremony for the development of a commercial facility on the site of the fruit and vegetable market in Hakata-ku, Fukuoka.
The facility is a five-story building with a total floor area of ​​approximately 206,400 m2, has approximately 3050 parking lots, and is scheduled to open in the spring of 2022.
The planned site is adjacent to the main road, Chikushi-dori, and close to the Fukuoka Outer Loop Road. It has an excellent road transportation network. It is close to Fukuoka Airport and Hakata Station, which are wide-area transportation hubs, making it an excellent location for access from a wide area.
It is within walking distance from "Takeshita" station on the JR Kagoshima main line, and a new bus terminal is planned to be built in the planned site, providing excellent transportation convenience by public transportation.
This development will contribute to the enhancement of urban functions such as disseminating the appeal of Fukuoka and Kyushu, improving the quality of life in the surrounding areas, and creating open spaces, centering on plaza spaces and commercial functions.
As a new base for community development in Fukuoka City, we will create a vibrant commercial space that will serve as a base for the community, including a plaza space where diverse people gather. By making a facility plan that corresponds to a new lifestyle, we will contribute to the efforts of Fukuoka City's infectious disease response city and the creation of a safe, secure and attractive city.
The commercial section has high-profile stores such as fashion, general merchandise, food and drink, and entertainment facilities. We aim to create a new facility full of encounters and experiences that can be enjoyed by a wide range of generations, not only families but also seniors and young people.
In addition, a colorful and multifunctional plaza (park) with a different concept is planned for the entire site. It provides a place where diverse people including local residents can meet, such as futsal courts, tennis courts, and sports parks with 200m tracks.
<Image of commercial facility>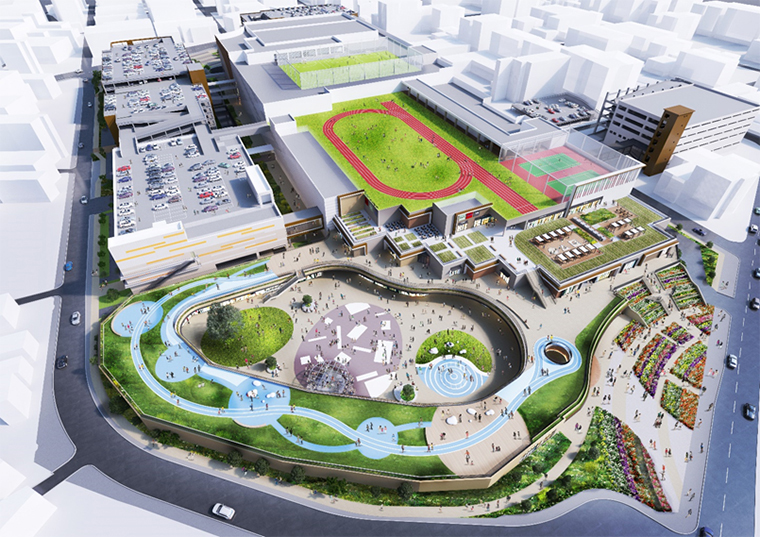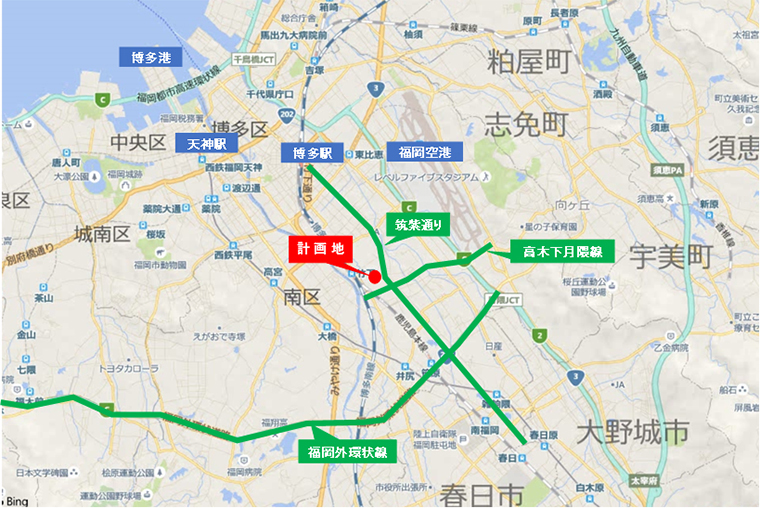 ■ "(Tentative name) Fukuoka City Fruit and Vegetable Market Site Utilization Project" Plan Outline
Business: Hakata Naka 6 Development Special Purpose Company
Location: 6-351 Naka, Hakata-ku, Fukuoka, etc. (Fukuoka City Fruit and Vegetable Market Site)
Site area: Approximately 86,600 m2
Structural scale: Store building, steel structure, 5 floors above ground, 1 floor below ground
Multi-storey car park building: Steel-framed 7-story building, 2 buildings, etc.
Total floor area: Approximately 206,400 m2 * Including multi-storey car park building
Parking: Approximately 3050
Transportation: 9 minutes walk from "Takeshita" station on the JR Kagoshima main line
Schedule: Construction starts in November 2020, completed / opened in spring 2022 (planned)