On November 19th, NTT East opened an experimental store of "Smart Store" in the NTT East Headquarters Building, which solves the labor shortage and responds to the non-contact needs of the new Corona Severe. It opened.
Due to the influence of the new coronavirus, on-site operations and purchasing behavior without human intervention are required to protect the safety and security of both customers and employees.
In light of these social issues and changes in the environment, the company has started a demonstration experiment to realize a smart store that can be operated unattended. We aim to realize a social system that is in line with the era of a declining population and the new normal.
In addition to contactless payment, the camera image in the store is transmitted to the company's asset, the communication building, to analyze purchasing behavior. We will improve the efficiency of product purchasing by distributors and enhance the product lineup according to user attributes.
In addition, it will operate a new unmanned store unique to the company, which is rooted in the region, such as handling bread from local stores.
For payment, the smartphone app completes the process from entering the store to product selection and payment, eliminating the need for cashiers and realizing non-contact purchasing that avoids close and crowded areas.
In terms of operation, we will utilize the company's assets to verify a lightweight smart store operation model that can be established even in a micro market with a small population.
Taking advantage of the characteristics of the company's communication building and high-speed network, which are "closed and secure environments," the camera images inside the store are analyzed after ensuring privacy. We will create stores that match user attributes and improve the efficiency of product purchasing and shelving allocation.
For support of users and business operators, the company's robots and call centers will be used to serve customers in a non-contact manner.
Furthermore, we will use the empty space of the communication building as a distribution base and deliver the last mile to the in-house experimental store by vehicle to verify the efficiency of storage and delivery and cost reduction.
<Experimental store of "smart store">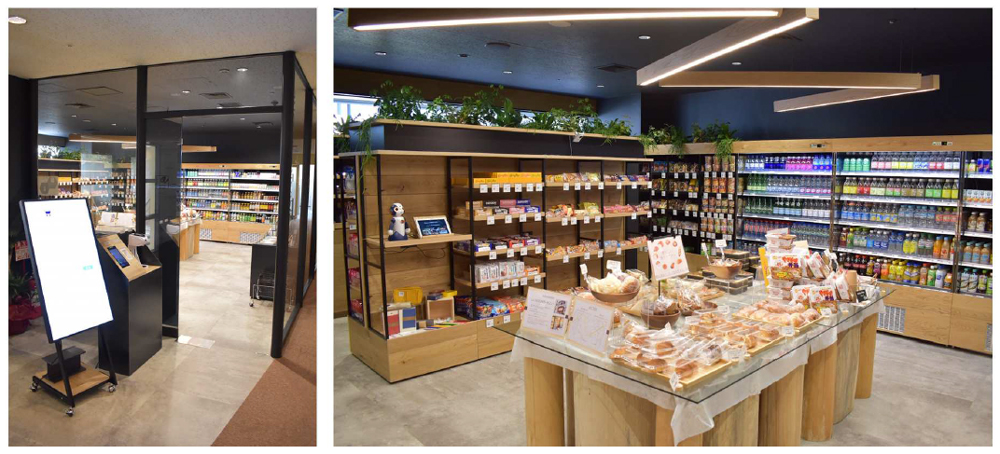 <Figure of smart store that can be operated even unattended>