On December 3rd, dely, which operates the recipe video service "Kurasil", started cooperation with Aeon Retail's "Ouchi de Aeon Aeon Net Super" within "Kurasil".
The online supermarket cooperation service is a platform that seamlessly handles everything from recipe / menu decisions to shopping at online supermarkets. Krasil users can search for the necessary ingredients while looking at about 38,000 recipes on the app and purchase them smoothly at the online supermarket.
With the participation of "Ouchi de Aeon Aeon Net Super" operated by Aeon Retail, recipes and menus have been decided at "Kurasil", and necessary ingredients can be purchased at "Ouchi de Aeon Aeon Net Super". ..
The "Home Aeon Aeon Net Super" that users can use through this service collaboration will be the target stores for the "Aeon" and "Aeon Style" net supermarkets in Honshu (excluding Tohoku) and Shikoku operated by Aeon Retail.
To purchase ingredients from the recipe, open the "Super" tab in the Krasil app, log in, and log in to "AEON Net Super" to register. The online super link function can be used free of charge (Kurasil Premium is charged).
Krasil handles recipe viewing (menu creation), selection of purchased products, and selection of delivery date and time, and order confirmation processing, settlement, and shipping are performed by "Aeon Aeon Net Super at Home" operated by Aeon Retail.
"WAON POINT" can also be saved for payment on "AEON Net Super".
<Started online super service in "Kurasil">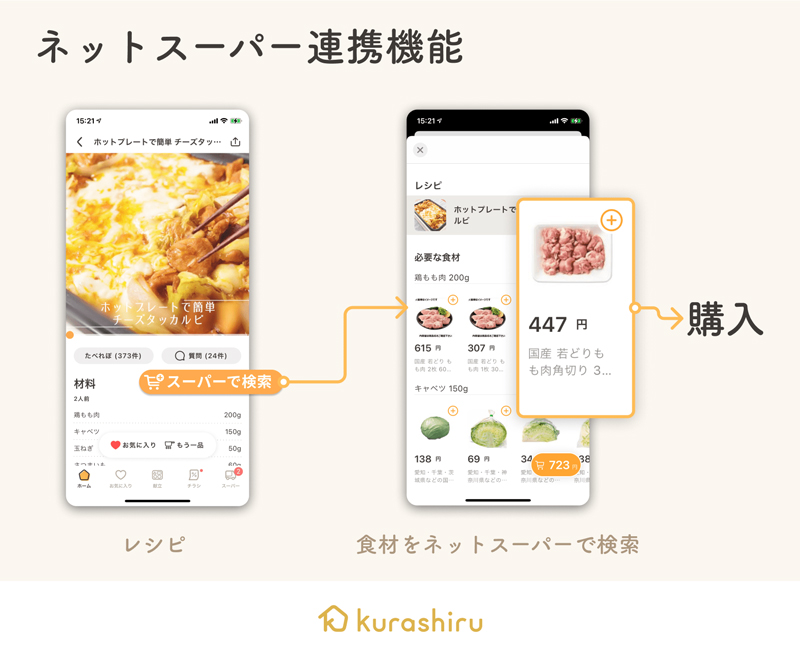 ■ Krasil
https://www.kurashiru.com/