Tokyu Real Estate Co., Ltd. announced on May 18 that it was selected as a business operator in the "Call for Proposals for the Sky-based Three-dimensional Use (Land Lease Contract) of the Minoo Kayano Ekimae Transportation Square" conducted by Minoo City in Minoo City, Osaka Prefecture.
The Minoh Kayano Ekimae Kotsu Hiroba, where the project is planned, is adjacent to the new station, Minoh Kayano Station, which is scheduled to open due to the extension of the Kita-Osaka Kyuko Nanboku Line in 2023.
The new station will replace Senri Chuo Station as a terminal station for the Midosuji Subway Line and Kita-Osaka Kyuko Nanboku Line, which are the main arteries of Osaka, and is expected to attract 28,000 passengers a day.
In addition, a bus terminal will be constructed in the planned area in line with the opening of Shin-Minoo Kayano Station, and a major review of bus routes is planned.
The company made business proposals for the maintenance of station buildings and under-elevated stores. Completion is scheduled for around March 2024.
While giving consideration to harmony with the mountains of Minoh and taking in natural light into the traffic plaza, we planned to make the most of the rich natural environment such as the adjacent Kayano plaza and the Senri River. We aim to create a space that brings relaxation, such as planning an open cafe that will be the starting point of the plaza's bustle, and a large staircase that connects the station building and the plaza.
Furthermore, while striving for harmony with the large-scale commercial facility "Mino Q's Mall," which the company has developed in the adjacent land and has been operating since October 2003, it is suitable as a new gateway to Minoo City and makes the city lively. We are considering facilities that can contribute.
■ Outline of plans for station buildings and under-elevated stores (planned)
Location: Part of Nishijuku 1-chome, Minoo City, Osaka Prefecture
Completion: Around March 2024 (planned)
Site area: Station building approx. 2200m2, under-elevated store approx. 1000m2
Total floor area: Station building approx. 5500m2, under-elevated store approx. 900m2
Number of floors: 3 floors above ground in the station building, 1 floor above ground in stores under the elevated
<Maintaining station buildings and stores under the elevated>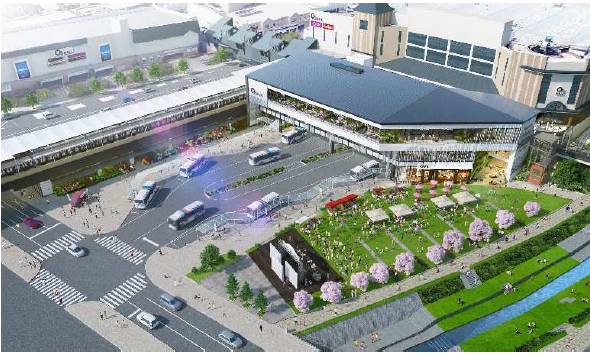 <Aiming to create a space that brings relaxation>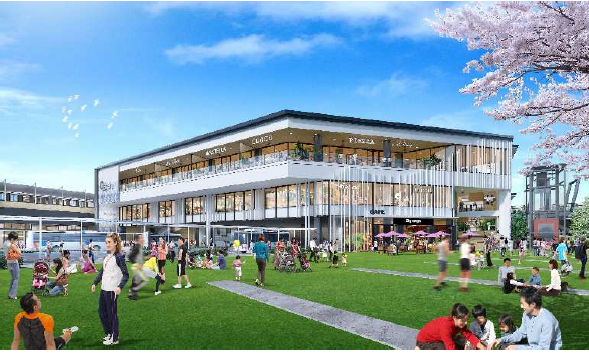 <Map of the surrounding area>