On November 13, FamilyMart will open "Famima Laundry Koshigaya Gamouhigashicho" on the same site as "FamilyMart Koshigaya Gamouhigashicho" in Koshigaya, Saitama Prefecture.
FamilyMart aims to further improve convenience and reduce the burden of housework by developing services that are highly compatible with convenience stores against the backdrop of changes in social structure such as an increase in double-income households and single-person households. Launched "Famima Laundry" from March of the year. Currently 13 stores are open.
At "Famima Laundry," you can use your smartphone to check the operating status of the washing machine and the scheduled end time. Since it is integrated with the FamilyMart store or is deployed on the same site and has a parking lot, it is also possible to visit the store by car. It is said that it can be easily used when bringing in a large amount of laundry or even on rainy days.
<Famima Laundry Koshigaya Gamouhigashicho Store>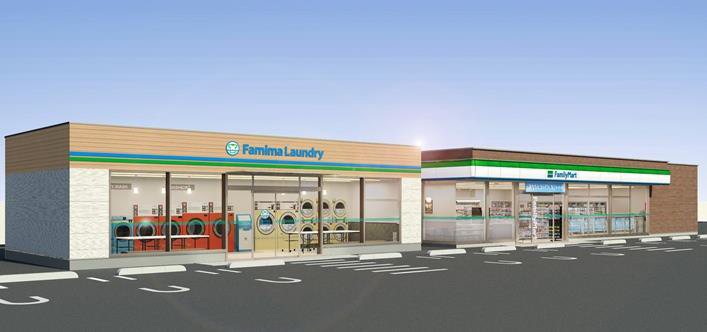 <FamilyMart Laundry Koshigaya Gamouhigashicho>
Address: 15-7 Gamouhigashi-cho, Koshigaya-shi, Saitama
Business hours: 24 hours
Form: Directly managed, unmanned store * "FamilyMart Koshigaya Gamouhigashicho store" is a franchise store (eat-in 10 seats)
Store area: Approximately 55m2
Parking: 20 cars (shared with FamilyMart stores)
Main equipment: 1 washing machine, washer / dryer (2 medium, 2 large washer / dryer), dryer (medium / 2-stage)
2 units, 1 dryer (large), 1 sneaker laundry (washing / drying), 1 multi-terminal, folding
2 units
Fee system: Washing machine 39 minutes 400 yen, washer / dryer (large) washing & drying course 60 minutes 1200 yen, etc. * Prices are subject to change.