From December 19th to January 10th, 2021, the Hanshin Umeda Main Store will exhibit for the first time as a next-generation store "Virtual Hanshin Food Museum" at the world's largest virtual reality event "Virtual Market 5".
"Virtual Market 5" is an exhibition / sale event that handles 3D items with "VRChat, an app that allows you to participate in the VR space with an avatar and communicate with various participants." It started in 2018 and is held twice a year. Last time (May 2020), 40 companies exhibited and more than 700,000 people from Japan and abroad visited. This time, which is the fifth time, the holding period will be doubled, and more than 70 companies are scheduled to exhibit.
At this exhibition, an existing employee of the Hanshin Umeda Main Store appeared as an avatar salesperson "Snack Boy Kosshi" and served customers in a virtual space. Introducing the wines of "Hanshin Ikayaki", "Club Harie" Baumkuchen, and "Fujimaru Brewery".
Since it is connected to the real EC site "Hanshin Online Shopping", you can actually purchase those products and enjoy them both virtual and real.
A 3D item "Inedible, Big Virtual Ikayaki" will be distributed free of charge to all visitors.
The Hanshin Umeda Main Store aims to establish a new means of communication with customers using digital technology and to create an OMO that combines real and digital technology toward the grand opening in the fall of 2021.
<Virtual Hanshin Food Museum>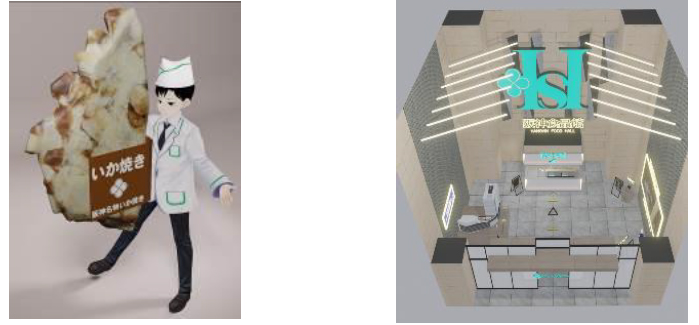 ■ Virtual Market 5
https://www.v-market.work/v5/