JR East announced on November 26th that it will complete the first rental housing with commercial facilities in Sendai City next spring as the JR East Group outside the Tokyo metropolitan area.
Rental housing "Riet Terrace Asuto Nagamachi" (total) is a 1-minute walk from JR Nagamachi Station at the entrance of "Asutonagamachi", which is popular in Sendai City and has a concentration of commercial facilities, medical facilities, sports and entertainment. (90 units) and the commercial facility "tekute Nagamachi 2" will be completed in March 2021.
For rental housing, we will prepare a total of 7 types of dwelling unit plans assuming a wide range of households from singles to families, and disaster prevention stockpiles to support residents in the event of a disaster.
Located a 1-minute walk from JR Nagamachi Station, Nagamachi Station has 2 stations and 4 lines, and the convenience of 1 station and 5 minutes to Sendai Station is attractive.
The commercial facility will attract stores that can be used more conveniently by local residents, such as cafes, restaurants, drug stores and clinics, based on the concept of "Nagamachi Life Making Zone" that supports the creation of a rich lifestyle in Nagamachi. Aim for an easy-to-use "tekute Nagamachi".
Kushikatsu Tanaka, Flat White Coffee Factory, Ains & Torpe, Apple in individual classroom, Hoken no Madoguchi, Hair and Makeup Beehive, Fukuhara, Teku and Nagamachi Dental will open.
<Appearance image>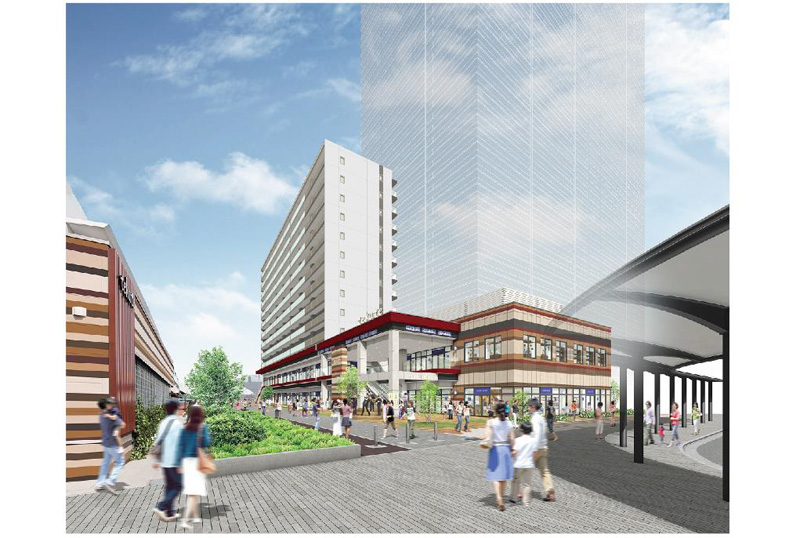 ■ Overview of rental housing with commercial facilities
Location: 1-5-5 Asutonagamachi, Taihaku-ku, Sendai
Access: 1 minute walk from Nagamachi Station
Site area: Approximately 2860m2
Total floor area: Approximately 6960m2
Structure: Reinforced concrete construction / steel frame construction
Scale: 12 stories above ground, 42 meters high
Building plan: 1st and 2nd floor commercial facilities, 3rd to 12th floor rental housing
Business owner: JR East Urban Development