UNIQLO was registered as the first building design of "UNIQLO PARK Yokohama Bayside Store" on December 2nd under the "Building Design" that was approved by the revised Design Law that came into effect on April 1st this year. Announced that it has acquired.
The UNIQLO PARK Yokohama Bayside store will open in April. It is a park with a slide, a jungle gym, bouldering and climbing facilities on the sloped roof. You can access each floor in the store from the rooftop, and you can enjoy shopping after playing in the park.
Based on the grand concept of "PLAY," total producer Kashiwa Sato built the vision of turning UNIQLO and GU stores into parks, and architect Sou Fujimoto was in charge of the basic concept and design supervision. The playground equipment was installed in collaboration with Bornelund Inc., which sells educational toys.
In addition, at the UNIQLO Harajuku store, which opened in June this year, the interior design registration of the floor "UT POP OUT", where you can experience the world of UT, was approved.
The floor features an interior where LED messages run between the UTs displayed in the showcase like art works, and the latest UT images flow on the huge screen at the back of the store. It exhibits and sells the latest UT items in collaboration with various artists and brands, and is positioned as a base for disseminating information on art and culture.
"UT POP OUT" was designed with Mr. Sato, the total creative director of the store, as the world's largest UT-only sales floor that doubles as the entrance on the first floor. The company intends to continue to make full use of its design power to create innovative and attractive stores.
<UNIQLO PARK Yokohama Bayside Store>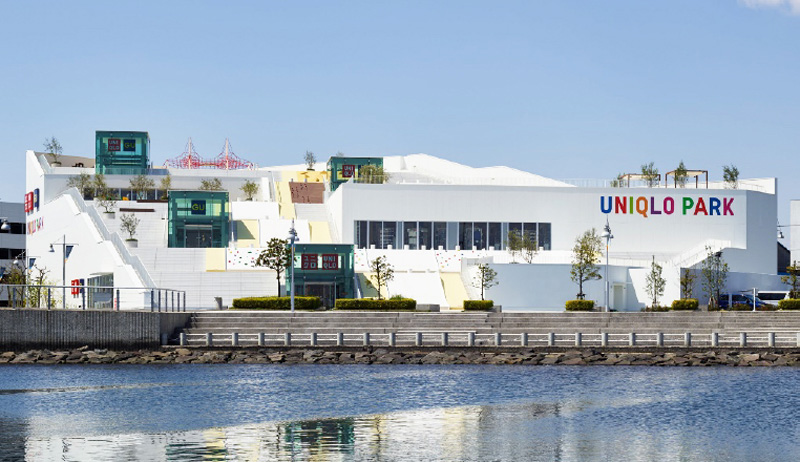 <UNIQLO Harajuku store "UT POP OUT">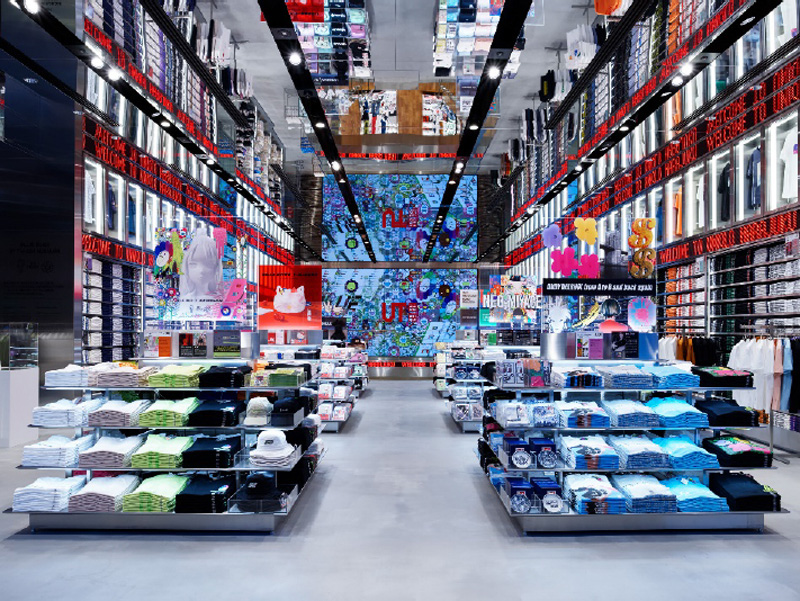 ■ Store overview
Store name: UNIQLO PARK Yokohama Bayside store
GU UNIQLO PARK Yokohama Bayside Store
Location: 6-5 Shiraho, Kanazawa-ku, Yokohama-shi, Kanagawa
Transportation: 10 minutes walk from Torihama Station on the Yokohama Seaside Line
Sales floor area: UNIQLO PARK Yokohama Bayside store Approximately 2181.81m2 (1st floor above ground, half of 3rd floor)
GU UNIQLO PARK Yokohama Bayside Store Approximately 1818.18m2 (2nd floor above ground, half of 3rd floor)
Products: UNIQLO Men's, Women's, Kids, Baby
GU Men's, Women's, Kids
Opening date: April 13, 2020
Store name: UNIQLO Harajuku store
Location: 1-14-30 Jingumae, Shibuya-ku, Tokyo WITH HARAJUKU 1st basement floor, 1st floor above ground
Transportation: 1 minute walk from "Harajuku Station" on the JR Yamanote Line
1 minute walk from "Meiji Jingumae Station" on the Tokyo Metro Chiyoda Line and Fukutoshin Line
Sales floor area: Approximately 1983.47m2 (1 basement floor, 1 floor above ground / 2 floors in total)
Products: Men's and Women's
Opening date: June 5, 2020