Nomura Real Estate Development Co., Ltd. announced on December 24 that it will provide "GEMS food trucks" and "GEMS ladder delivery" in the "GEMS" series of urban commercial facilities it operates.
Due to the spread of the new coronavirus infection, teleworking and teleworking are increasing, and the need for ready-to-eat meals is increasing in both residential and office areas.
In addition, restaurants are being forced to respond to changing needs, such as reduced opportunities for dinner and dinner with friends and colleagues. The group will launch two new initiatives to help restaurant operators respond to these rapid changes in needs.
"GEMS Food Truck" is an initiative that uses Mellow's food truck dispatch service. Mellow buys food from GEMS restaurants, goes to various facilities such as condominiums and offices, and performs final finishing and sales on the spot.
"GEMS Ladder Delivery" utilizes Anycarri's sharing platform. Orderers will be able to order products from each GEMS store in a one-stop manner from the GEMS portal site. By using this service, it is possible to handle orders at multiple stores within the same GEMS on the portal site with a single delivery cost.
The "GEMS Food Truck" service will start pre-starting in early October. Multiple GEMS tenants have participated and are currently offering about 2,500 meals in residential areas. In the future, we aim to expand to offices as well as housing as sales destinations.
In addition, the "GEMS Ladder Delivery" service will start pre-starting at GEMS Hiroo Cross in January, and is scheduled to be implemented in other GEMS series in sequence.
Specifically, for food trucks, "SHOP STOP" operated by Mellow has been set up on the premises of houses that the company group sells and manages, offices that manage operations, and so on. Food will be provided by food and beverage tenants who move into the "GEMS" series.
Since the system purchases a fixed number of meals from the restaurant tenant in advance, it is easy for restaurants to make income and expenditure forecasts, which leads to securing a stable source of revenue.
By continuously measuring the sales progress and verifying the appropriate menu and number of meals for the area and facility use, we would like to contribute to improving user satisfaction and reducing food loss.
■ GEMS portal site
http://www.gems-portal.com/
<GEMS food truck Service Overview>

<GEMS food truck image>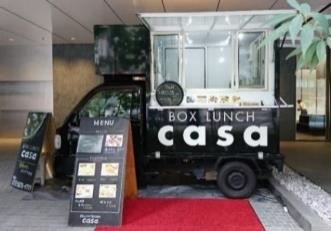 <delivery>