Sogo & Seibu announced on January 2 that sales and customer numbers on New Year's Day were down about 50% at the Seibu Ikebukuro main store compared to the same day of the previous year.
The store opened at 9:30 am, 30 minutes earlier than 10 am to avoid congestion and respond to cold weather.
The first sale of the Seibu Ikebukuro main store, "Seibu Winter sale" and "Seibu Lucky Bag," has been extended from December 26, 2020 to January 11, 2021.
For the first time, at the special venue for popular food lucky bags on the 2nd floor of the annex, assorted lucky bags of famous sweets and side dish lucky bags were sold out by noon.
Due to the influence of the New Year's Eve, cold protection such as gloves and mufflers and room socks are popular due to the expansion of time to spend in the house.
Clearance sale for women's clothing, which has started Seibu Winter sale
from the end of the year, has been diversified and no congestion has been seen.
Demand for spending time at home is high, and kitchen utensils such as imported brand pots and frying pans are popular.
The number of elderly customers has decreased due to the spread of the new coronavirus infection.
In addition, as a response to prevent the spread of new coronavirus infection, personnel were assigned to 14 main entrances, thermography, masks were worn, and hand sanitizers were carried out, and employees dressed as the Seven Lucky Gods called for infection prevention measures at the main entrance.
<Set up a special base to sell popular food lucky bags to avoid store congestion>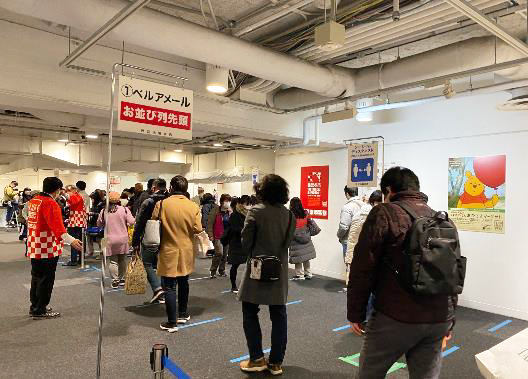 <Lucky bag venue of kitchen supplies section>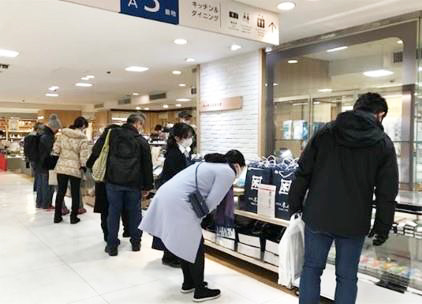 <Call for prevention of new corona infection by employees dressed as Japanese Seven Lucky Gods>