Tokyu Land Corporation announced on May 17 that it has begun new construction of a new complex facility "(tentative name) Daikanyamacho Project" being promoted in Daikanyamacho, Shibuya-ku.
The planned site is located near Daikanyama Station and has a flagship location facing Hachiman-dori and Daikanyama-dori. The new facility is a complex facility consisting of rental housing, offices, and commercial facilities. We propose a "new lifestyle" that seamlessly fuses different scenes of "living," "working," and "playing." It is scheduled to be completed in the fall of 2023.
Kengo Kuma, a world-famous architect, designed the design and adopted a design in which small wooden boxes of various shapes full of greenery were piled up. We aim to create a new base that connects to the greenery of the city and gives a glimpse of each person's life from the sunlight through the trees, which is close to the changing times as the trees grow.
In response to the corona disaster, new lifestyles are expanding and people's values ​​and lifestyles are changing, so we are responding to diversification of working styles and places of work and changes in consumer activities. The company thought that the complex facilities required in the coming era should not only "exist for different uses" but also "provide expanded living options for the entire facility by integrating each use".
We plan offices and commercial facilities in addition to rental housing, and create a style that seamlessly integrates "living," "working," and "playing" so that the entire facility becomes a place of living regardless of individual uses.
Although it is conveniently located near Daikanyama Station, it provides a comfortable living scene by incorporating abundant greenery both indoors and outdoors to match the lush green cityscape.
■ (Tentative name) Daikanyamacho Project
Address: 119 Daikanyama-cho, Shibuya-ku, Tokyo
Site area: Approximately 4084m2
Total floor area: Approximately 21,875m2
Structural scale: Reinforced concrete construction 10 floors above ground, 2 floors below ground
Uses: Rental housing, stores, offices, parking lots
Basic design: Kengo Kuma & Associates
Implementation design: Takenaka Corporation / Tokyu Architects & Engineers Joint Venture
Contractor: Takenaka Corporation
Completion: Fall 2023 (planned)
<(Tentative name) Daikanyamacho Project>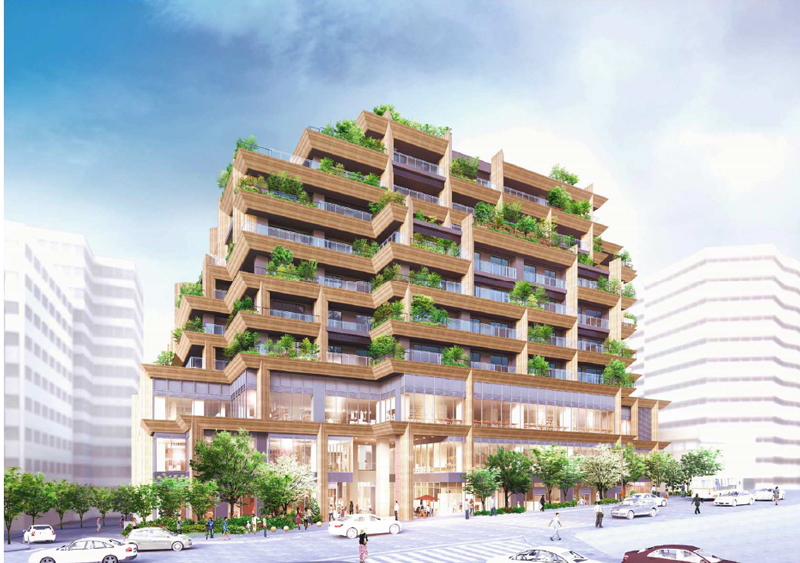 <Seamless floor configuration for "living," "working," and "playing">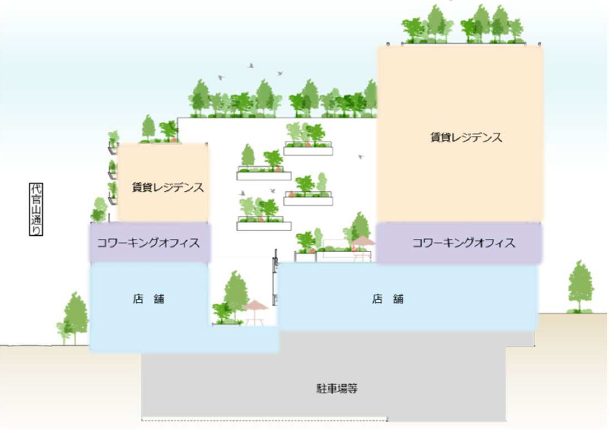 <Approach from Yawata-dori via the lush courtyard>